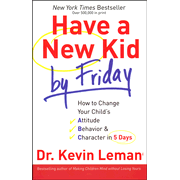 Did your grandchild bring an attitude with him (or her) when he moved in with you? It's time to fine tune your parenting skills, again. Even with caregivers having the best parenting skills, most kids go through stages now and then with a bit of a "tude." But when the attitude is too much and too often, then you need to guide your grandchild in learning how to adjust his attitude.
As a special education teacher, I'm very familiar with students with attitudes. Students with strong attitudes, often oppositional, are sometimes that way because of disturbing situations within their home environment which have prevented your grandchild from becoming the person he was meant to be.
One reason for the attitude may be because it is perhaps the only thing they believe they have control over – their behavior. When there are drastic changes within their family structure, whether caused by substance abuse, divorce, death, or other reasons, it is a lot of baggage for a young person to handle – especially because it is beyond their control. It definitely carries over to their relationships with family, friends, and school.
If you feel your grandchild needs an attitude adjustment to achieve positive behavior, try the suggestions in "Have a New Kid by Friday," by Dr. Leman. He offers parenting advice with a sense of humor, covering the ABCs: Attitude, Behavior, and Character and the pillars of self-esteem: Acceptance, Belonging, and Competence. You'll also get to see what the top 100 parenting tips are for today's kids.
If you feel you can't help your grandchild become the person he was meant to be, speak to your grandchild's school psychologist. Remember, it isn't a sign of weakness to ask for help, but a sign of strength. If you feel you can't handle it by yourself…your grandchild certainly can't either.
| | |
| --- | --- |
| | Have a New Kid by FridayBy Dr. Kevin Leman / RevellFamily out of control? Thinking of calling Nanny 911? Try Dr. Leman's action plans instead! His straightforward advice offers doable day-by-day strategies to change your child's attitude, behavior, and character and help you become the parent you've always wanted to be. Includes indexed section on how to handle everything from rolling eyes to punching walls! Hardcover. |