Are you looking for special cupcake recipes? Here are 3 to enjoy cooking with your grandchildren. On my drive home from work yesterday, I listened to an interview with food writer Nigella Lawson (on NPR.org) who shared some of her favorite Valentine's recipes: Love Buns, Chocolate Cherry Cupcakes, and Butterfly Cakes…. Enjoy making these with your grandchildren…and yourself, too, on any day…not just  Happy Valentine's Day!
Love Buns (Cupcakes)
Recipe is reprinted from NPR.org who reprinted it from Feast: Food to Celebrate Life. This recipe has not been tested by NPR or Nana.  This recipe makes 12 homemade cupcakes (from scratch) with a meringue topping decorated with heart shaped candy confetti.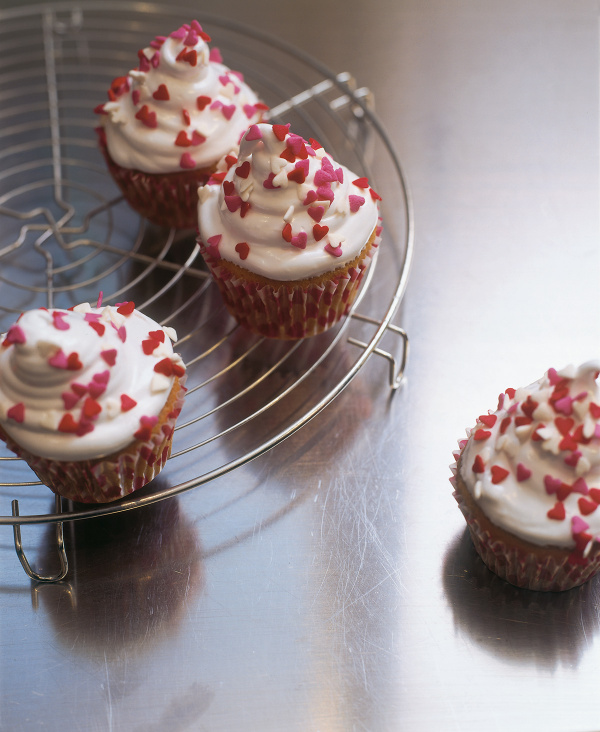 Bun (Cupcake)Â Ingredients
Makes 12 buns (cupcakes).
1 stick plus 1 tablespoon soft butter
1/2 cup plus 1 tablespoon superfine sugar
2 eggs
3/4 cup all-purpose flour
1/2 teaspoon baking soda
2 teaspoons baking powder
2 teaspoons real vanilla extract
2-3 tablespoons milk
Topping Ingredients
2 egg whites
1/2 cup light corn syrup
1/2 cup superfine sugar
1/4 teaspoon salt
1/4 teaspoon cream of tartar
1 teaspoon pure vanilla extract
Heart-shaped sprinkles to decorate
Take everything you need out of the fridge in time to bring to room temperature — this makes a huge difference to the lightness of the love buns later — and preheat the oven to 400 degrees.
Put all of the ingredients for the buns, except for the milk, into a food processor and blitz until smooth. Pulse while adding the milk down the funnel to make a smooth, dropping consistency.
Divide the mixture into a 12-bun muffin tin lined with muffin(cupcake) papers or heart-patterned cases, and bake in the oven for 15-20 minutes. They should have risen and be golden on top; you want a little peak if possible.
Let them cool a little in their tin on a rack, and then take them carefully out of the tin to cool in their papers, still on the wire rack.
Now for the topping. Here is a slight dilemma, as you'll make more than you need for the 12 buns, but if you halve the quantities, you won't have quite enough. If you're making these for you and your one true love, then I presume you won't need all 12 of them, in which case you could freeze most of the buns to be iced and eaten at some later date, and halve the topping ingredients to decorate the few you want today.
This is a frosting that has a kind of meringue base, by which you whisk egg whites over heat until they're stiff and gleaming. So make a double-boiler with a heatproof bowl that will fit snugly over a saucepan of barely simmering water, and put all of the ingredients for the frosting, except for the vanilla and sprinkles, into the bowl. Whisk everything with an electric beater until the icing becomes thick and holds peaks like a meringue. This will take about 5 minutes, so be patient.
Take the bowl off the saucepan and onto a cool surface and keep whisking while you add the vanilla. Then keep whisking until the mixture cools a little. You want a proper peaked and whipped covering here, so spoon some frosting over each bun and then dollop another spoonful over in a swirly fashion. Immediately shake over your choice of sprinkles, as the icing will set very quickly. Indeed, these look rather like stage prop buns or the fake ones that some bakeries used to keep in their windows, so plasticky and gleaming are they.
Butterfly Cupcakes
Reprinted from Nigella Express: Good Food, Fast. This recipe has not been tested by NPR or Nana.
Butterfly Cakes Ingredients:
Makes 12 cupcakes.
1/2 cup (1 stick) plus 1 tablespoon soft butter
1/2 cup plus 1 tablespoon sugar
2 eggs
3/4 cup flour
1 teaspoon baking powder
1/2 teaspoon baking soda
1 teaspoon pure vanilla extract
1 tablespoon milk
1 cup heavy cream
food coloring of your choice
Preheat the oven to 400 degrees and line a 12-cup muffin pan with paper liners.
Cream the butter and sugar either in a bowl by hand or with an electric mixer.
Once light and fluffy, add the eggs one at a time with a little of the flour, beating as you go.
Fold in the rest of the flour, the baking powder and baking soda, and the vanilla, and finally the milk.
Spoon the batter into the paper liners, dividing equally.
Put in the oven and bake for 15-20 minutes or until the cupcakes are cooked and golden on top. Take the cupcakes in their paper liners out of the pan and let cool on a wire rack.
Once they're cool, cut off the mounded peak (if your cakes have obliged), cutting it in half to make the butterfly wings. Dig down a little with your knife. This will also leave a small hole to put the cream to hold the wings. If your cakes haven't peaked much, you will just have to cut out a slightly wider circle after the top, digging in as you do so.
Whip the cream until thick, coloring with food coloring if you wish, and dollop about 2 teaspoonfuls of cream on top of each cake.
Stick on your butterfly wings, using the cream as the glue.
Chocolate Cherry Cupcakes
Reprinted from How to be a Domestic Goddess: Baking and the Art of Comfort Cooking. This recipe has not been tested by NPR.
Cupcake Ingredients
Makes 12 cupcakes
12-cup muffin pan and paper baking cups
1/2 cup soft unsalted butter
4 ounces bittersweet chocolate, broken into pieces
1 1/3 cups morello cherry jam
1/2 cup sugar
Pinch of salt
2 large eggs, beaten
1 cup self-rising cake flour
Icing Ingredients
4 ounces bittersweet chocolate
1/3 cup plus 1 tablespoon heavy cream
12 natural-colored glace cherries
Preheat the oven to 350 degrees.
Put the butter in a heavy-bottomed pan on the heat to melt. When nearly completely melted, stir in the chocolate. Leave for a moment to begin softening, then take the pan off the heat and stir with a wooden spoon until the butter and chocolate are smooth and melted. Now add the cherry jam, sugar, salt, and eggs. Stir with a wooden spoon and when all is pretty well amalgamated, stir in the flour.
Scrape and pour into the muffin baking cups in their pan and bake for 25 minutes. Cool in the pan on a rack for 10 minutes before turning out.
When the cupcakes are cool, break the chocolate for the icing into little pieces and add them to the cream in a saucepan. Bring to a boil, remove from heat, and then whisk — by hand or electrically — till thick and smooth. Ice the cupcakes, smoothing the tops with the back of a spoon, and stand a cherry in the center of each.
Note for this recipe:
The jam that was used for these is a morello cherry preserve; if you're using a less elegant and probably sweeter confection, reduce the sugar in the cakes a little. And if you have any Kirsch about the place, then add a splash to the batter and icing.